Toponetech's 21.5 inch projected capacitive (PCAP) touchscreens through various touch panel structures including anti sacratched glass layers.
Due to its highly durable and smooth surface,projected capacitive touch screen is suitable for industrial touchscreen display applications,Gaming,
Transprotation,and so on.the waterproof technology of Projected capacitive touchscreen, which can be operated with Works with water,dust,oil,
moisten and provides a high quality touch experience under harsh condition. (up to 10 touch points). Toponetech offers both standard and custom
industrial display sizes, Toponetech's 21.5 inch projected capacitive touch screens are form, fit or function replacements for 3M™ and Elo™ touch
sensors.
Customizable:Top One Tech® offers a wide range of customization options to meet your requirements including screen dimensions, cover glass thickness, bonding and surface treatments such as anti-glare.
Specifications:
Part Number(s)

PCAP (Worldwide) -TOT215UCA009

Enclosure Color

Black

Touch Technology & Capacity

PCAP (Projected Capacitive) - 10 Touch

Touch Interface

PCAP - USB 2.0

Diagonal Size

21.5'' diagonal, Active matrix TFT LCD (LED)

On Screen Display

Accessible through switches on the unit's keypad (OSD Control).

Controls: Menu, Up, Down, Select, Power

Settings: Brightness, Contrast, Clock, Phase, H-position, V-position, Auto-Adjust, Sharpness, Color Temperature, OSD Timeout, OSD Language, OSD H-Position, OSD V-Position, Recall Defaults, Video Priority, Information, Touch On Sleep Mode, Touch Thru

Languages: English, French, Italian, German, Spanish, Simplified Chinese, Traditional Chinese, Japanese

Lockouts: OSD, Power

Aspect Ratio

16:9

Active Area (mm)

18.78" × 10.55"/ 477mm × 268mm

Resolution

1920 × 1080

Viewing Angle

Horizontal: ±85° or 170° total

Vertical: ±80° or 160° total

Number of Colors

16.7 million

Brightness (typical)

LCD panel: 250 nits

PCAP: 215 nits

Response Time-total (typical)

3.5 msec

Contrast Ratio

1000:1

Input Video Format

HDMI V1.3 Type A receptacle for HDMI input

Analog VGA on Female DB-15 connector

Input Video Frequency

Horizontal: 37.8 - 68.4 KHz

Vertical: 60 - 75 Hz

Video Interface

HDMI, VGA ,or DVI,or Display Port

Power Supply

Power cord and power brick (sold together)

Input Voltage

12VDC +/- 5%

Power Consumption (Typical)

Monitor + Adapter at 100-240V/50-60Hz

ON: 17.8 W

SLEEP: 1.5 W

OFF: 0.5W

Touch Panel Dimensions

20.54" × 12.31" ×0.11" /521.64mm × 321.60m × 2.80mm

Operating Temperature

0°C to 50°C / 32°F to 122°F

Storage Temperature

-20°C to 60°C / -4°F to 140°F

Humidity

Operating: 20% to 80%

Storage: 10% to 90%

Sealability

Touchscreen sealed to bezel

Touchscreen sealed to LCD

MTBF

50,000 hours demonstrated

Warranty

1-year

Extended Warranty Options

2 year warranty coverage -(Optional)

3 year warranty coverage - (Optional)

Regulatory approvals and declarations

Europe CE TUV,EuropeRoHS,Europe ERP; United States FCC;

Mounting Options

75 mm and 100 mm VESA mount (Total Modeles)

2-hole mounting interface on all 4 sides

Rear mount (PCAP Models see Part Numbers for details)

Front mount (IntelliTouch Models see Part Numbers for details)

Rack mount with optional kit (IntelliTouch Models see Part Numbers for details)

Flush mount with included brackets (PCAP Models see Part Numbers for details)

What's in the Box

HDMI cable

VGA Cable

Touch USB Cable

Power brick(1A,3A,4A optional)

Power Cord (European,North America,UK,Australia,China optional)

For Bezeled: "L" (Side Mount) Brackets and w/Screws(SAW touch monitor)

LED lights remote control (Open frame monitor with LED lights around for Casino device)

Quick Install Guide
Mechanical Dimensions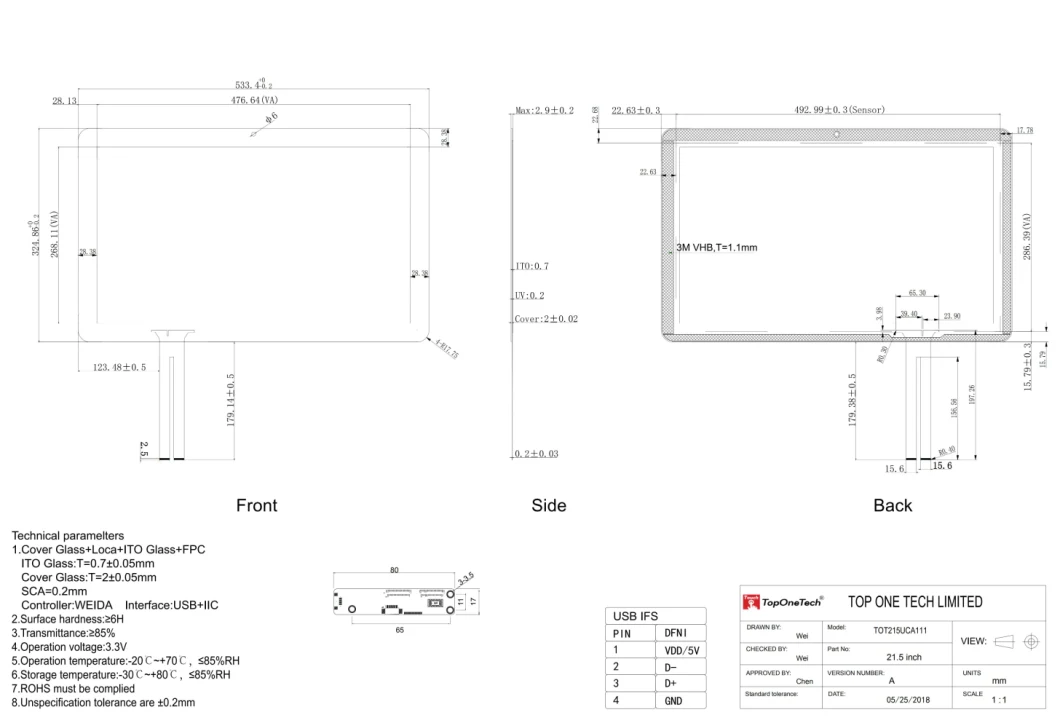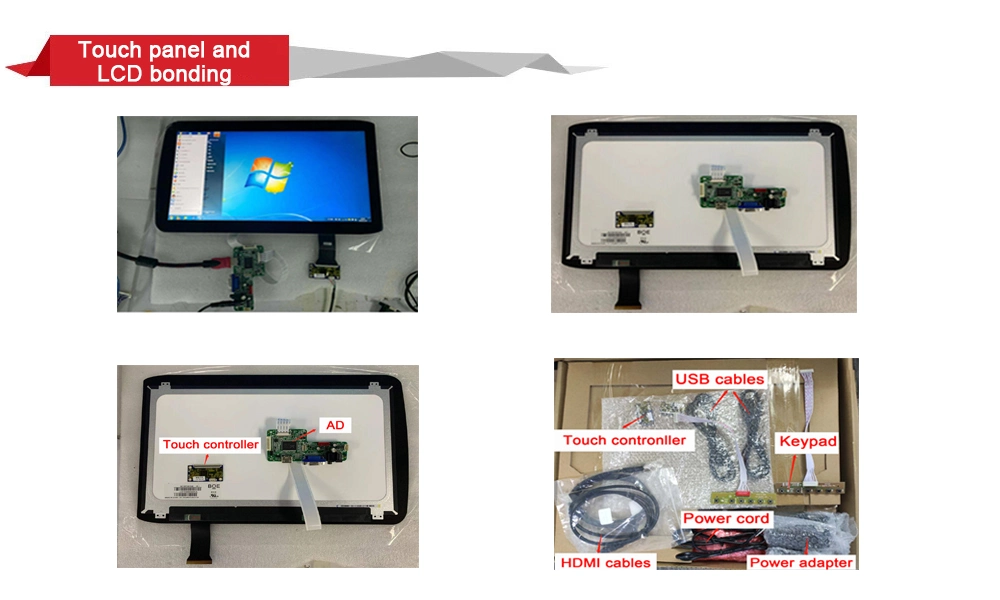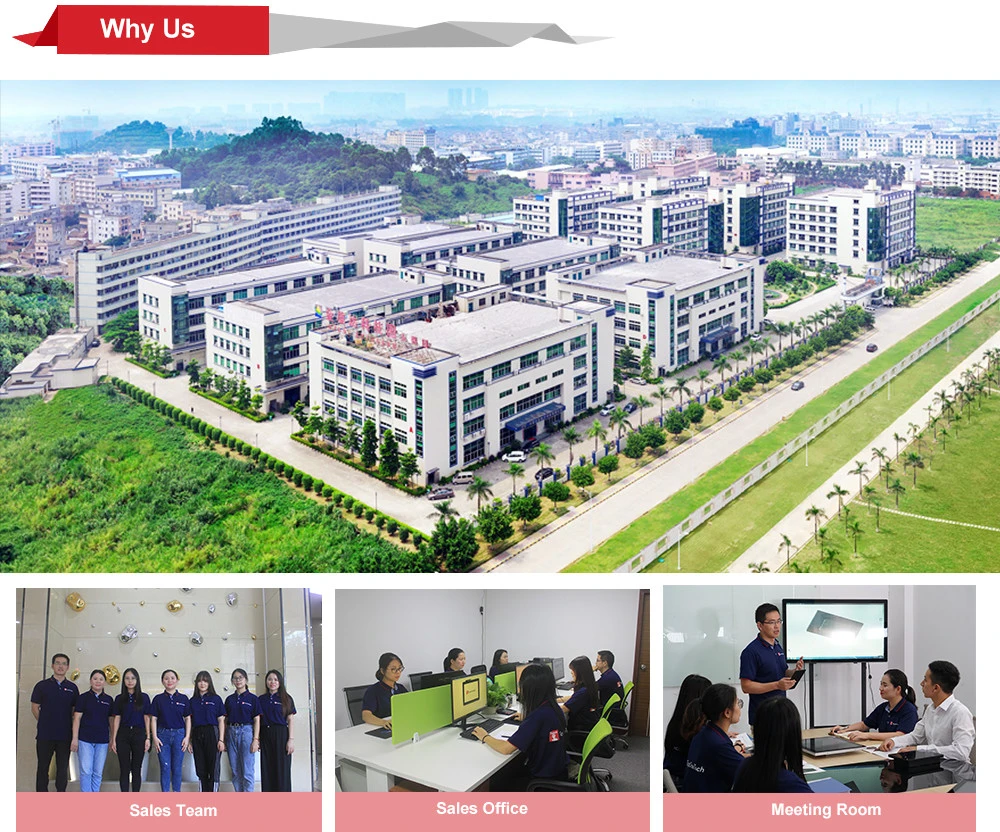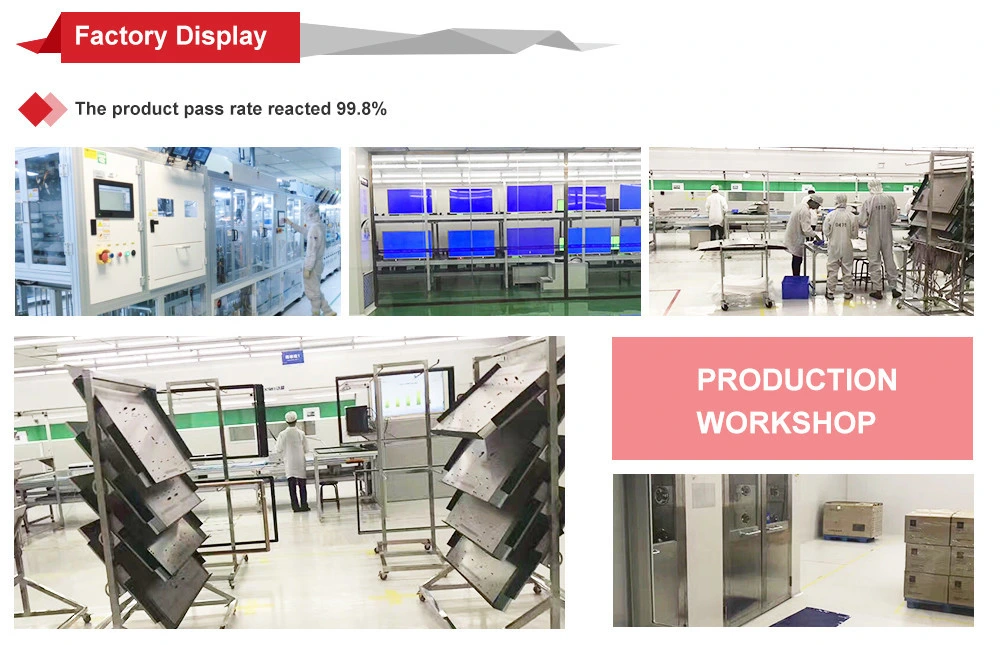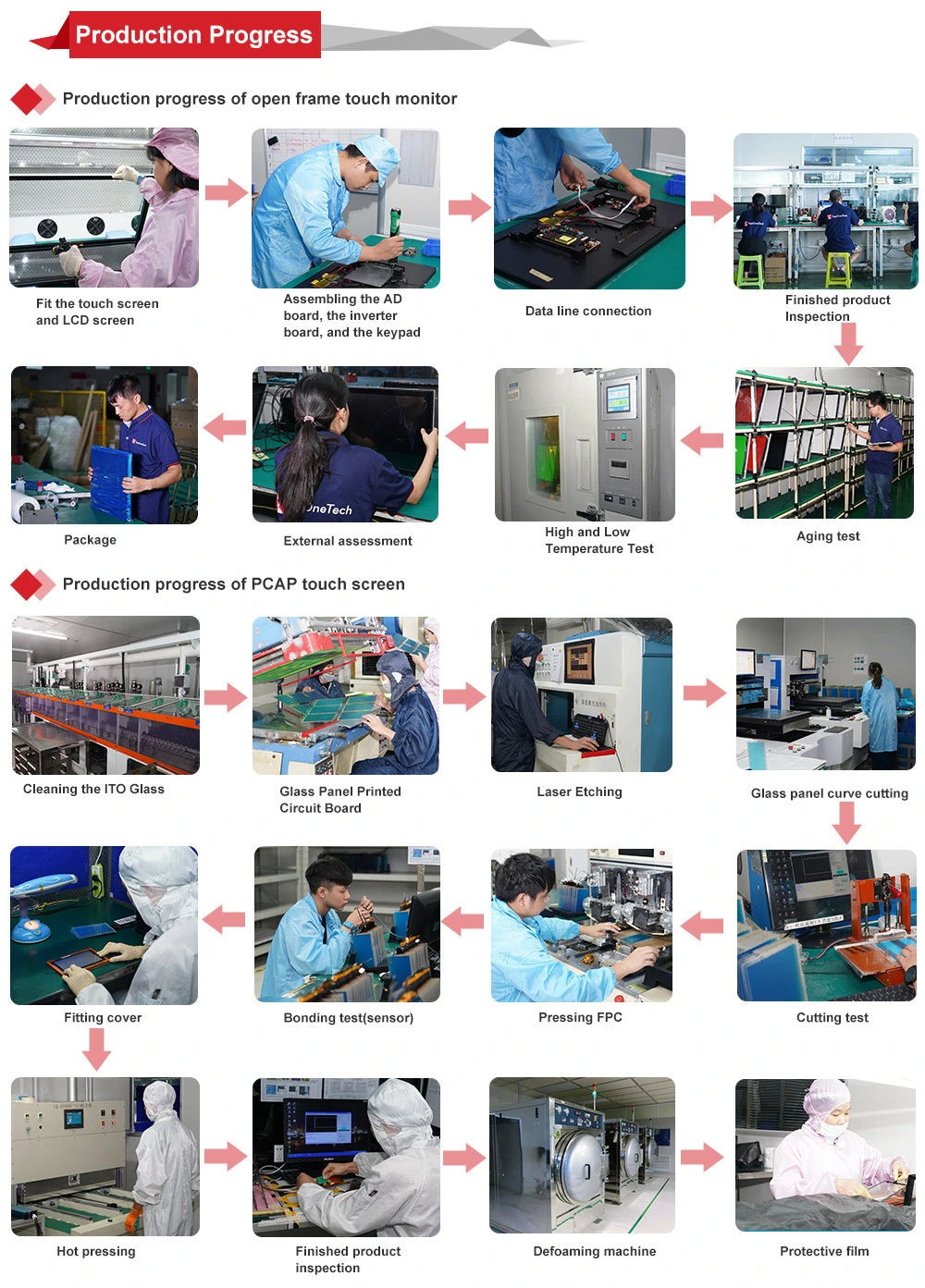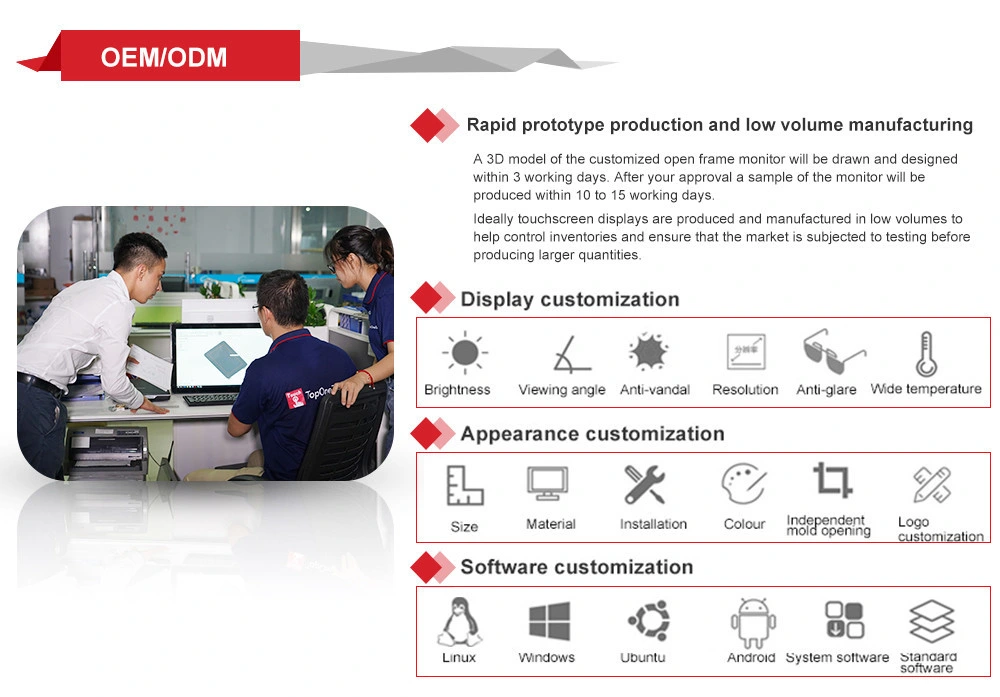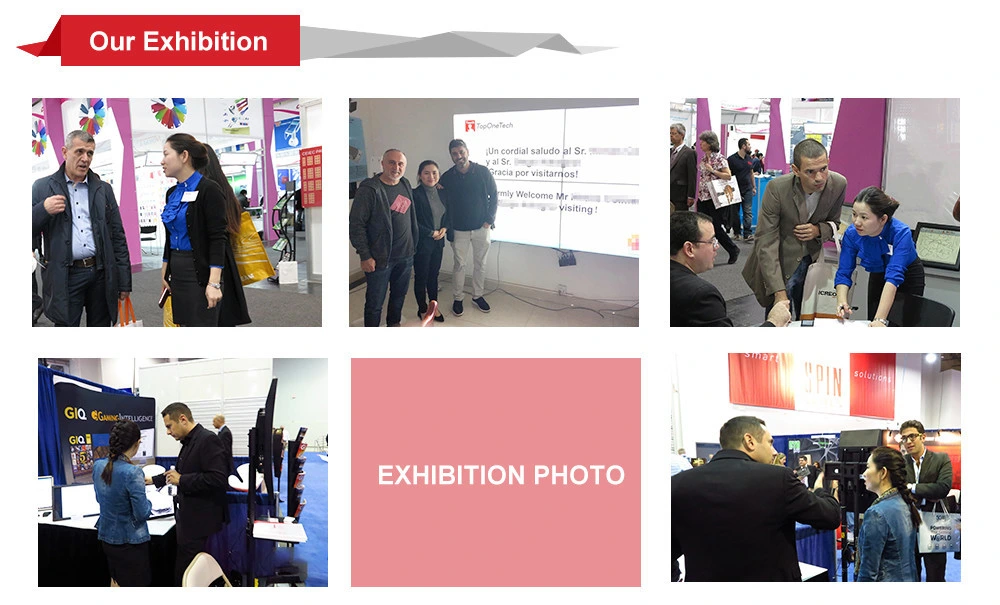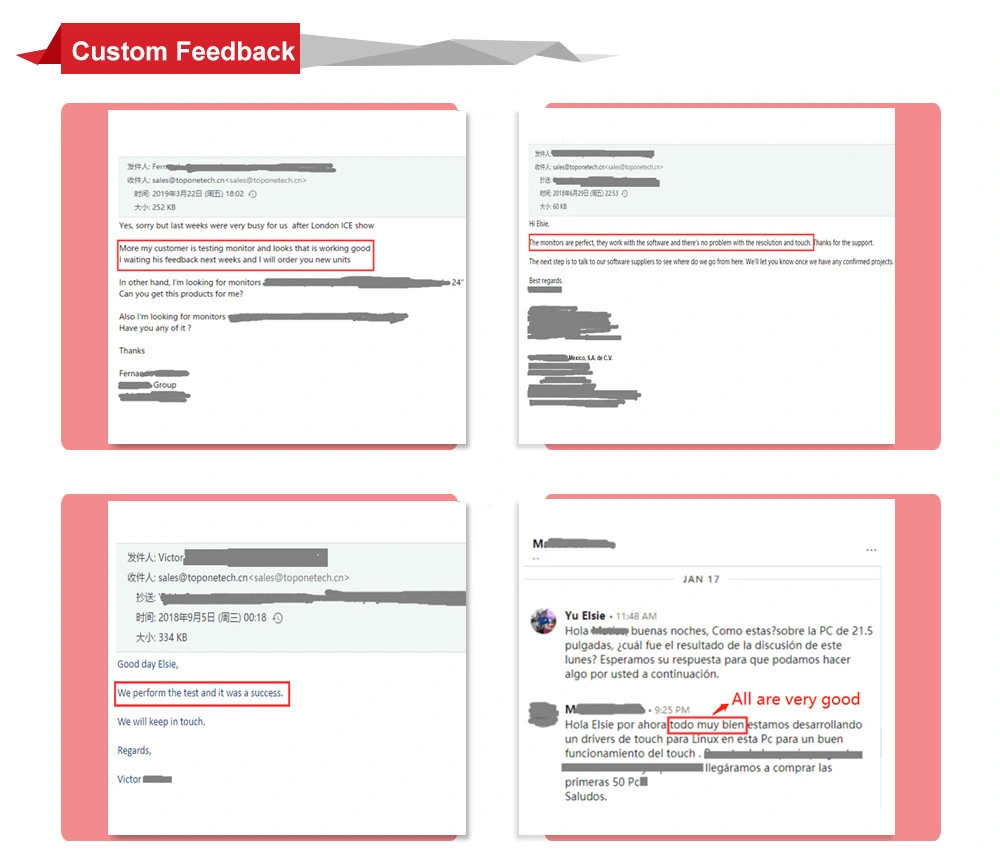 Other PCAP Touch Screen:
| | | | | | | | |
| --- | --- | --- | --- | --- | --- | --- | --- |
| Size | Ratio | Thickness(mm) | Controller | Connector type | AA(MM) | OD(MM) | Part Number |
| 5" | 16:10 | 1.95 | GT911 | USB | 108.60*65.40 | 116.91*75.54 | TOT005UCA111 |
| 7" | 16:09 | 2 | ILI2511 | I2C | 154.60*86.32 | 173.03*115.50 | TOT007UCA111 |
| 8" | 4:03 | 1.3 | GT911 | USB | 162.15*121.45 | 175.85*137.31 | TOT008UCA111 |
| 10.1" | 16:09 | 2 | ILI2511 | USB | 216.58*135.36 | 246.69*165.70 | TOT101UCA111 |
| 10.4" | 4:03 | 2.9 | WEIDA | USB | 212.80*160.20 | 264.30*203.80 | TOT104UCA111 |
| 12.1" | 4:03 | 3 | WEIDA | USB | 248.00*186.50 | 291.84*195.09 | TOT121UCA111 |
| 15" | 4:03 | 3.9 | ILI2302 | USB | 305.00*229.01 | 339.85*263.85 | TOT150UCA111 |
| 15.6" | 16:09 | 2 | WEIDA | USB | 344.23*193.954 | 386.72*236.85 | TOT156UCA111 |
| 17" | 4:03 | 2.8 | WEIDA | USB | 337.92*270.34 | 382.00*314.00 | TOT170UCA111 |
| 18.5" | 16:09 | 2.8 | WEIDA | USB | 409.80*230.40 | 458.00*283.00 | TOT185UCA111 |
| 19" | 4:03 | 2.8 | WEIDA | USB | 377.32*302.05 | 414.32*302.50 | TOT190UCA111 |
| 21.5" | 16:09 | 2.8 | WEIDA | USB | 476.64*268.11 | 521.64*312.60 | TOT215UCA111 |
| 23.6" | 16:09 | 4.3 | ILI2302 | USB | 523.50*295.20 | 582.20*362.50 | TOT236UCA111 |
| 23.8" | 16:09 | 4.35 | ILI2302 | USB | 525.50*297.00 | 573.05*349.05 | TOT238UCA111 |
| 24" | 16:09 | 3.3 | ILI2302 | USB | 519.50*325.10 | 556.20*359.06 | TOT240UCA111 |
| 27" | 16:09 | 4.3 | ILI2302 | USB | 598.02*336.02 | 649.03*389.03 | TOT270UCA111 |
| 32" | 16:09 | 4.3 | ILI2302 | USB | 698.70*393.30 | 754.70*449.30 | TOT320UCA111 |