Composition of Probe System:
OPS-30 series optical probe system include two pieces of hardware and one software package; The software package model is SP-W10, the two pieces of the hardware are:
1)OP510 optical probe (including optional shank and stylus );
2)OSI-20 optical receiver(the standard cable length 8m/the optional lengthened cable).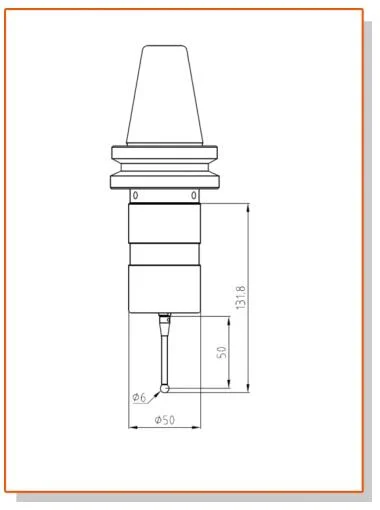 Technical Parameters:
1)The technical parameters of OP510 optical probe :Stylus sensing direction: ±X, ±Y, +Z; Stylus sensing over-travel : X-Y±15°, Z +5 mm;
The adjusting range of trigger force in Z direction: 500-1000 g;
Trigger force in X-Y surface: 50g -100g;
Unidirectional repeatability(2σ): ≤ 2 μm;
Optical signal receiving/sending distance : ≥ 5;
Working days of new batteries ( 5% utilization rate in a single shift):140 days;
Seal grade: IP68.
2)OSI-20 optical receiver technical parameters:
Optical signal receiving/sending distance: ≥ 5 m;
For the probe switch on/off with M code, The optical signal transmission range can be adjusted to four grade: 5-6 m, 3.75-4m, 2.5-3m, 1.25-1.5m;
Input voltage is 24±10% V DC and output load current is 50 mA.
Technical Characteristics:
Probe switch on/off method::Range on/off,M code on/off;
Infrared coded signals are used to transmit information between the probe and the receiver;
The transmitting distance of the probe signal can be adjusted by trigger probe with special program to set the receiver;
Output four kinds of SSR signals to machine control system when probe is in the states of trigger,error,probe batteries low and output pulse;
The OSI-20 receiver can change its logical state of the output signal by setting;
Double infrared signal receiving and transmitting devices are used to increase the reliability of the equipment;
The LED lights in the receiver show the working status of the probe system.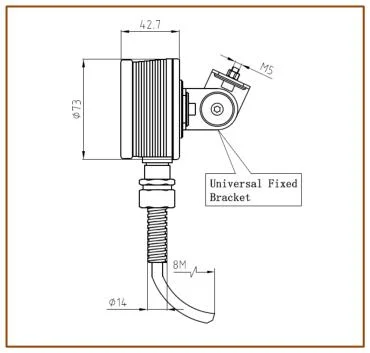 Basic configuration:
1)OP510 Probe
Standard stylus model: M4-P50-RB6-S36;
Battery specification: 14250, 3.6V,1000mAh; 2 ps.;
Usually, the probe shank is 7:24 taper shank with the BT or ISO standards , the common models are 30#,40#,50# and etc.; the shank with the HSK or other standards can also be used.
2)OSI-20 Receiver
The cable length usually is 8 meters with13 cores' shielded cable;
Fixed bracket with universal adjustment function is equipped.