High Accuracy Touch Screen Brinell Hardness Measurement Instrument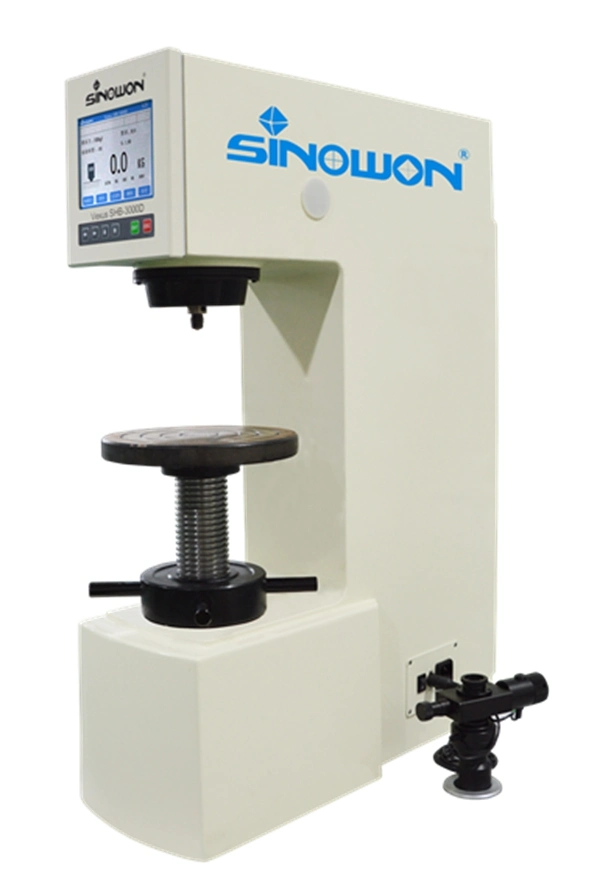 1, Vexus SHB3000D differs from like products is the close loop loading system, key panel and touch screen double input methods, blue tooth transferring technology and digital measurement indentation technology.

2, High accuracy close loop loading sensor replace traditional weights loading method, to realize automatic loading, dewell and unloading, makes easier installation and better measurement accuracy.

3, Equips with 5.2" color touch screen with innovative interface design, makes force selection, dwell time setting, scale conversion and data reading, transferring, printing more convenient and fast.

4, One touch operation of indentationmeasurement by high resolution objective, largely eliminate human error and avoid annoyance to check indentation comparison table.

5, Auto hardness conversion from Brinell scale HBW to HK, HV, HRA, HRB, HRC, superficial rockwell scales, etc.

6, Equips with Bluetooth Device, optional Bluetooth printer and computer acceptor is available to realize wireless printing and data transferring.
When selecting a hardness tester for your application, it is important for you to consider the following:
A, Choose the correct test method based on the application.
Plan to use the highest test force and largest indenter possible. Consider the effects of the shape and dimensions of your test sample.
B, Verify the test results meet your requirements for accuracy and repeatability. There are significant differences between levels of performance within each classification of tester. A difficult job on one tester could be very simple and fast on another.
Answer these key questions:
1, What kind of hardness scale to be used?
2, What is the material to be tested, and is this material suitable to the type of test method you are considering?
3, How large is the part, component or specimen to be tested?
4, Is the test point difficult to reach?
5, What is the quantity of testing that will be done?
6, How accurate does your test result need to be?
7, What is your budget?
8, What is the required return on investment and do you have ways to measure reductions in costs- yields, throughput, operator efficiency?
9, What testing problems have you experienced in your current method?
10, How knowledgeable are the users of the tester?
Principle of Brinell Test
The Brinell hardness test method consists of indenting the test material with a 10 mm diameter hardened carbide ball subjected to a load of 3000 kg. For softer materials the load can be reduced to 1500 kg or 500 kg to avoid excessive indentation.
The full load is normally applied for 10 to 15 seconds in the case of iron and steel and for at least 30 seconds in the case of other metals. The diameter of the indentation left in the test material is measured with a low powered microscope. The Brinell harness number is calculated by dividing the load applied by the surface area of the indentation.
The diameter of the impression is the average of two readings at right angles and the use of a Brinell hardness number table can simplify the determination of the Brinell hardness. A well structured Brinell hardness number reveals the test conditions, and looks like this, "75 HB 10/500/30" which means that a Brinell Hardness of 75 was obtained using a 10mm diameter hardened steel with a 500 kilogram load applied for a period of 30 seconds.
On tests of extremely hard metals a tungsten carbide ball is substituted for the steel ball. Compared to the other hardness test methods, the Brinell ball makes the deepest and widest indentation, so the test averages the hardness over a wider amount of material, which will more accurately account for multiple grain structures and any irregularities in the uniformity of the material. This method is the best for achieving the bulk or macro-hardness of a material, particularly those materials with heterogeneous structures.
Specifications:
Product Name
Digital Brinell Hardness Tester
Model
SHB-3000D
Code#
831-121
Testing Force
62.5Kgf, 100Kgf, 125Kgf, 187.5Kgf, 250Kgf, 500Kgf, 750Kgf, 1000Kgf, 1500Kgf, 3000Kgf
612.9N, 980N, 1226N, 1839N, 2452N, 4900N, 7355N, 9800N, 14700N, 29400N
Testing Range
(8~650) HBW
Hardness Display
5.2" Touch Screen LCD Display
Magnification of Microscope
20x Digital Microscope
Max. Height Of Specimen
225mm
Instrument Throat
135mm
Power Supply
AC220V/50Hz;110V/60Hz
Dimension(LxWxH)
893 x720 x747mm
Gross/Net Weight
160Kg/130Kg
Execution Standard
ISO 6506 , ASTM E10 - 12 , JIS Z2243 , GB/T 231
Accuracy of Brinell Hardness Testing
Hardness Range
Max. Tolerance
Repeatability
HBW≤ 125
< 3.5 %
< 3.5 %
125 < HBW≤225
< 2.5 %
< 3.0 %
HBW > 225
< 2.0 %
< 2.5 %
Standard Delivery:
Standard Delivery
Code#
Standard Delivery
Code#
Standard Delivery
Code#
Instrument Main Body
831-121
Ø5mm Ball Indenter
831-421
Power Cable
831-801
20x Digital Microscope
831-221
Ø2.5mm Ball Indenter
831-431
Accessories Box
831-901
Hardness Block HBW/3000/10
831-601
Ø 200mm Flat Anvil
831-551
Anti-dust Cover
831-911
Hardness Block HBW/750/05
831-611
Ø 60mm Flat Anvil
831-501
Level Screw
831-931
Ø10mm Ball Indenter
831-411
Ø 55mm V-shape Anvil
831-521
Instrument Manual
SHB-3000D