PT100 Temperature Sensor 2m Rtd Cable Stainless steel Probe 100mm 3 Wires for Thermostate is composed of stainless steel housing, lead wire cable and terminal connector. It's manufactured from Hefei Jingpu Sensor Technology Co.,ltd.
Quick details



sensing element
Pt100 / Pt1000
temp.range

-50

ºC

~ +200

ºC

probe material
high class waterproof stainless steel sheath
probe length
50mm or customzied
probe diameter
6mm or customzied
wire material
26AWG #PVC
Cable color
black, red, white
wire length
1m or customized 2m 3m 5m 10m cable
accuracy
±0.5ºC
temperature factor
TCR=3850ppm/k
other options:
1. standard value: R25ºC 10KΩ, B(25/85ºC)=3435K, different NTC R-T performance curve available;
2. different temperature probe and wire length and color available
3. different size SUS housings available for sensor mounting protection
4. different type of terminal connector is available
Features
• Unique 1-Wire interface requires only one port pin for communication
• Each device has a unique 64-bit serial code stored in an onboard ROM
• Multidrop capability simplifies distributed temperature sensing applications
• Requires no external components
• Can be powered from data line. Power supply range is 3.0V to 5.5V
• Alarm search command identifies and addresses devices whose temperature is outside of programmed limits (temperature alarm condition)
• Available in 8-pin SO (150mil), 8-pin SOP, and 3-pin TO-92 packages
• Software compatible with the DS1822
•
Moisture-proof, fast response and short thermal time constant
Description
M series PRTDs are designed for large volume applications where long term stability, interchangeability and accuracy over a large temperature range are vital. Typical applications are automotive, white goods, HVAC, Energy management, Medical and Industrial equipment.
The measuring point for the nominal resistance is defined at 8mm from the end of the sensor body.
You may also like these products: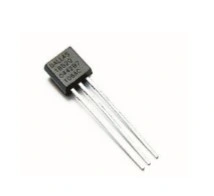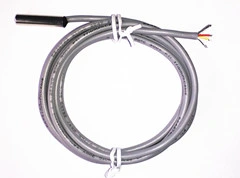 Contact us now for details and hope to select a best choice for you.
Related other sensors