Portable Hardness Tester with Cable Probe
Application Fields:
The bearings and other parts, heavy work

-

pieces, metal material, pressure vessel, failure analysis of turbine generator unit and equipment

Mechanical or permanent assembly components have been installed, the test space is very narrow, requires the original record regular test results
Large work

-

piece within a wide range of more rapid test measurement site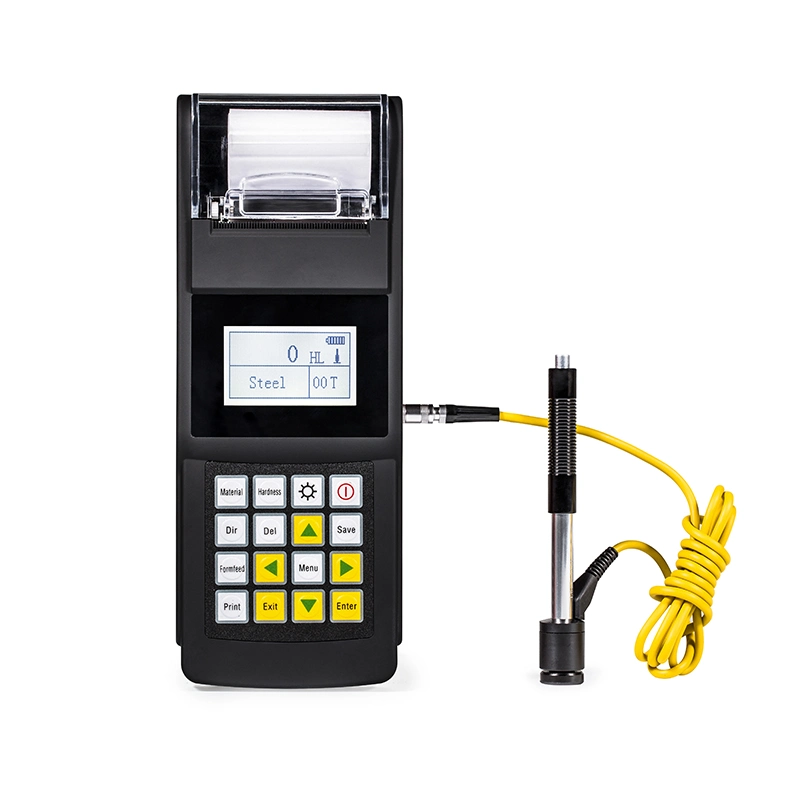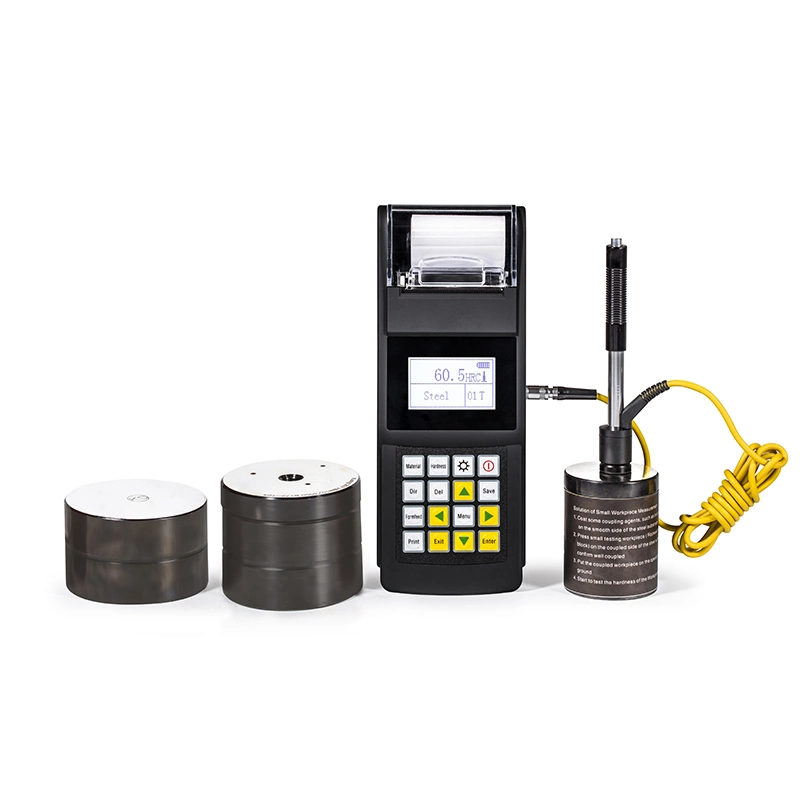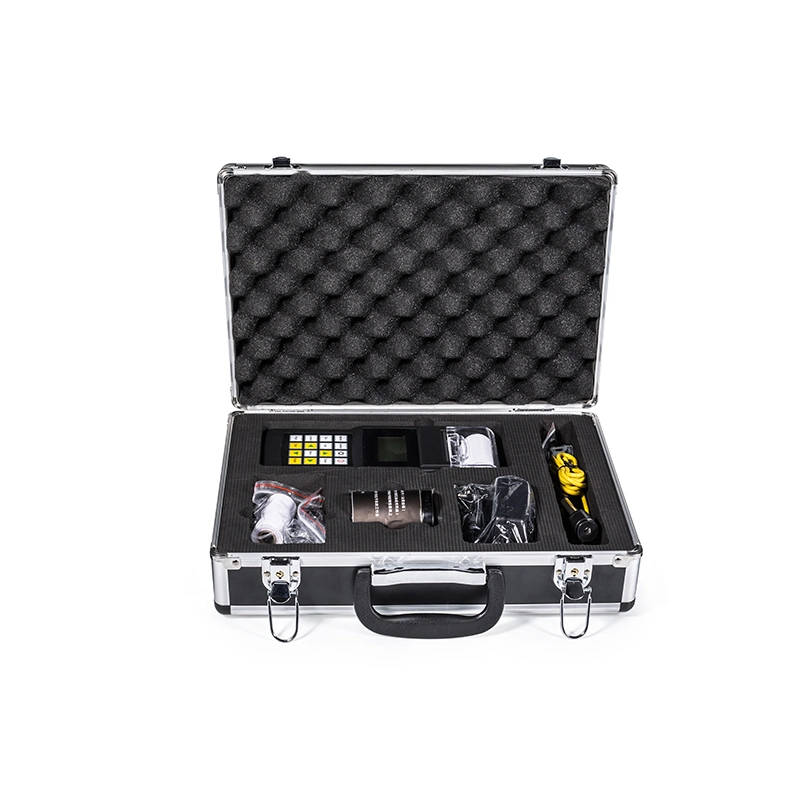 Optional Impact Device: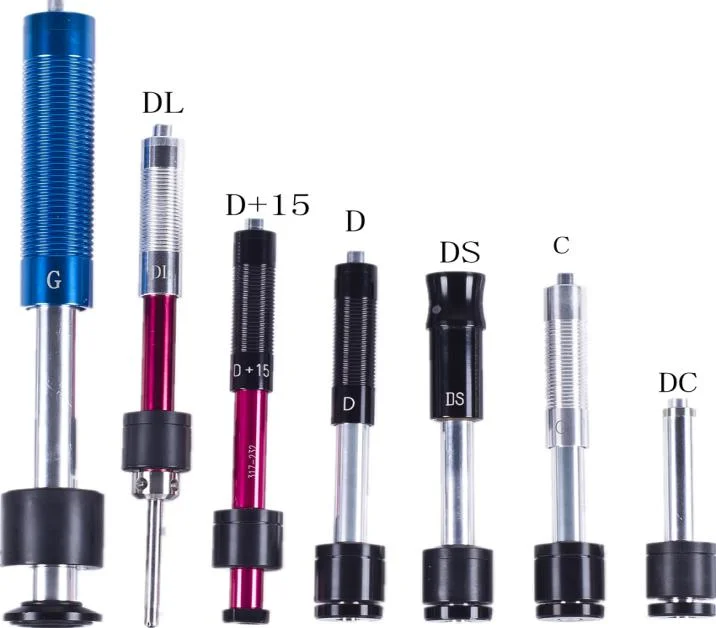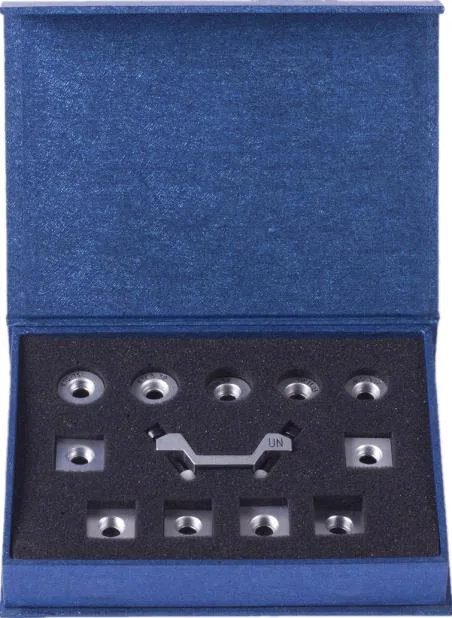 Measuring Conditions:
The weight of measuring object

≥

2kg.

The thickness must be

≥

10mm.

The surface roughness must be

≤

1.6μm.
Tips: If do not meet the above conditions, the measuring object should be laminated with steel substrate by coupling agents.
Special Supporting Ring ( use for different shape surface):
| | | | |
| --- | --- | --- | --- |
| Model | Notice | Model | Notice |
| Z10-15 | Outside cylinder R10-15 | K10-15 | Outside sphere R10-15 |
| Z14.5-30 | Outside cylinder R14.5-30 | K14.5-30 | Outside sphere R14.5-30 |
| Z25-50 | Outside cylinder R25-50 | HK11-13 | Inside sphere R11-13 |
| HZ11-13 | Inside cylinder R11-13 | HK12.5-17 | Inside sphere R12.5-17 |
| HZ12.5-17 | Inside cylinder R12.5-17 | HK16.5-30 | Inside sphere R16.5-30 |
| HZ16.5-30 | Inside cylinder R16.5-30 | UN | Outside cylinder, Radius can be adjusted R10-∞ |
Measuring Range:
Hardness

Impact Device

D/DC/DS

C

G

DL

ST&Cast ST

HRC

17.1~68.5

20.0~69.5

20.6~68.2

HRB

59.6~99.6

47.7~99.9

37.0~99.9

HB

140~651

80~683

90~646

150~646

HV

83~976

80~996

85~950

HS

26.4~99.5

31.9~102.3

26.5~99.4

Forged steel

HB

142~651

CWT Steel

HRC

17.1~67.1

20.0~69.5

HV

83~976

80~996

Stainless

HRB

59.6~99.6

HB

140~651

HV

83~976

GC Iron

HB

140~334

92~326

NC Iron

HB

140~387

140~364

Cast Alum.

HB

30~159

Brass

HB

40~173

HRB

13.5~95.3

Bronzes

HB

60~290

Copper

HB

45~315
Technical Specification of Impact Device
Optional Impact Device

DC/D/DL/DS

D+15

C

G

E

Impact energy

11mj

11mj

2.7mj

90mj

11mj

Impact body weight

5.5/5.5/7.2/5.5(g)

7.8(g)

3.0(g)

20(g)

5.5(g)

Hardness of Impact Ball

1600HV

1600HV

1600HV

1600HV

5000HV

Diameter of Impact Ball

3mm

3mm

3mm

5mm

3mm

Material of Impact Ball

Tungsten carbide

Tungsten carbide

Tungsten carbide

Tungsten carbide

Diamond

Diameter of Impact Device

20/20/6/20mm

20mm

20mm

30mm

20mm

Length of Impact Device

86/147/202/138mm

162mm

141mm

254mm

155mm

Weight of Impact Device

50/75/60/70g

80g

75g

250g

80g

Specimen Maximum Hardness

940/940/950/940HV

940HV

1000HV

650HB

1200HV

Average roughness of specimen surface(Ra)

1.6μm

1.6μm

0.4μm

6.3μm

1.6μm

Specimen Minimum Weight

Direct Measurement Weight

>5kg

>5kg

>1.5kg

>15kg

>5kg

Need to support fixed Weight

2~5kg

2~5kg

0.5~1.5kg

5~15kg

2~5kg

Need coupling support Weight

0.05~2kg

0.05~2kg

0.05~0.5kg

0.5~5kg

0.05~2kg

Specimen Minimum Thickness

Need coupling support Thickness

5mm

5mm

1mm

10mm

5mm

Hardening Layer Minimum Thickness

≥0.8mm

≥0.8mm

≥0.2mm

≥1.2mm

≥0.8mm

Size of Ball Indentation

300HD Indentation Diameter

0.54mm

0.54mm

0.38mm

1.03mm

0.54mm

300HD Indentation Depth

24μm

24μm

12μm

53μm

24μm

600HD Indentation Diameter

0.54mm

0.54mm

0.32mm

0.90mm

0.54mm

600HD Indentation Depth

17μm

17μm

8μm

41μm

17μm

800HD Indentation Diameter

0.35mm

0.35mm

0.35mm

---

0.35mm

800HD Indentation Depth

10μm

10μm

7μm

---

10μm

Impact Device Scope of application

DC:

I

nner hole

/

within the cylinder;

DL:slender narrow slot

/

hole;D:Conventional




DS:Assembly line on-line detection (loading and release is only one time)

D+15:Interface is small,long, groove or the surface of the recess

C:Impact is small, undamagehardening layer,

For

small, light, thin parts and hardening layer

G:

For

castings and forgings of large, thick, heavy and surface is rough

E:Suitable for measuring material with very high hardness