Why so many peoples order this SIMZO thermometers forehead thermometer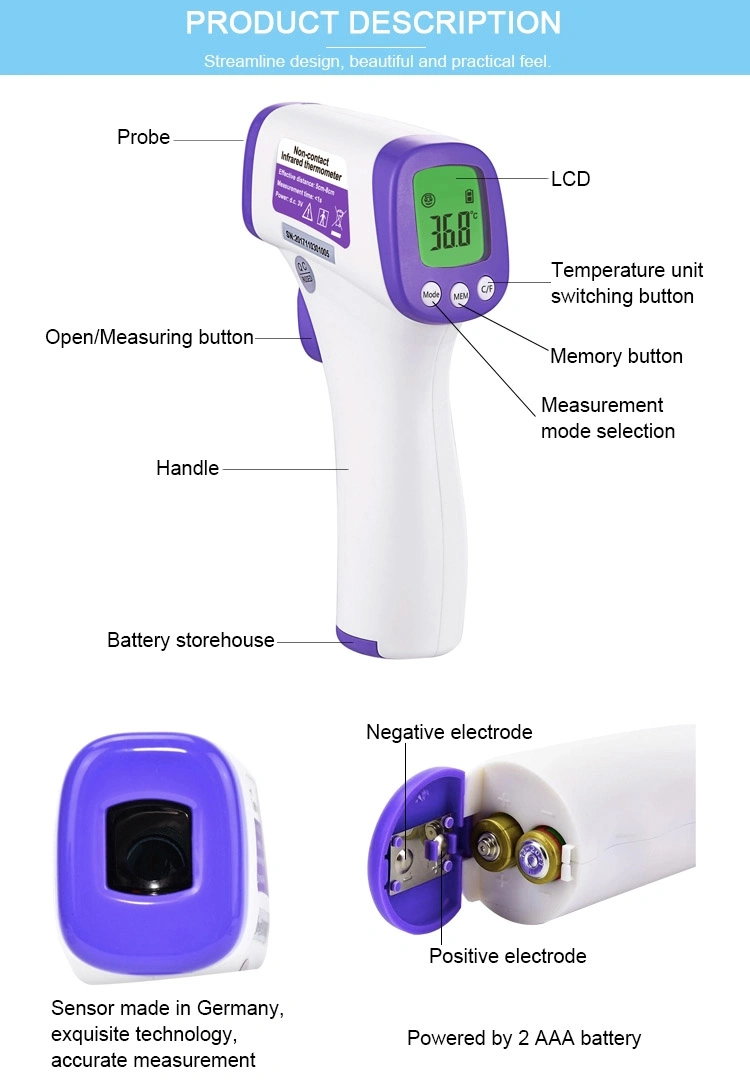 SMALL SIZE/THREE COLOR BACKLIGHT
1. Range for human body: 34.0ºC-43.0ºC
2. Range for object: 0ºC-93ºC
3. Three Color Back-lit display
4. C/F reading available
5.10 Memories
6. Automatic switch off
7. Battery level indication
8. Buzzer for fever alarm
Applicable standard: EN 12470-5 and ASTM E 1965-98
Measurement distance: 5CM-8CM
Accuracy for human body:
±0.2ºC/0.4ºF 34.0-42.0ºC(93.2-107.6ºF)
±0.3ºC/0.5ºF 42.1-43.0ºC(107.7-109.4ºF)
Accuracy for object:
±1ºC/1.8ºF 0-93ºC(32-199.4ºF)
Resolution: 0.1°C/0.1°F
Operation condition: 15.0°C-40.0°C(59°F-104.0°F)
Humidity≤95% non-condensing
Storage condition: -25.0°C-55.0°C (-13.0°F-131.0°F)
Humidity≤95% non-condensing
Battery: 2*AAA battery
Dimension:80*135*40MM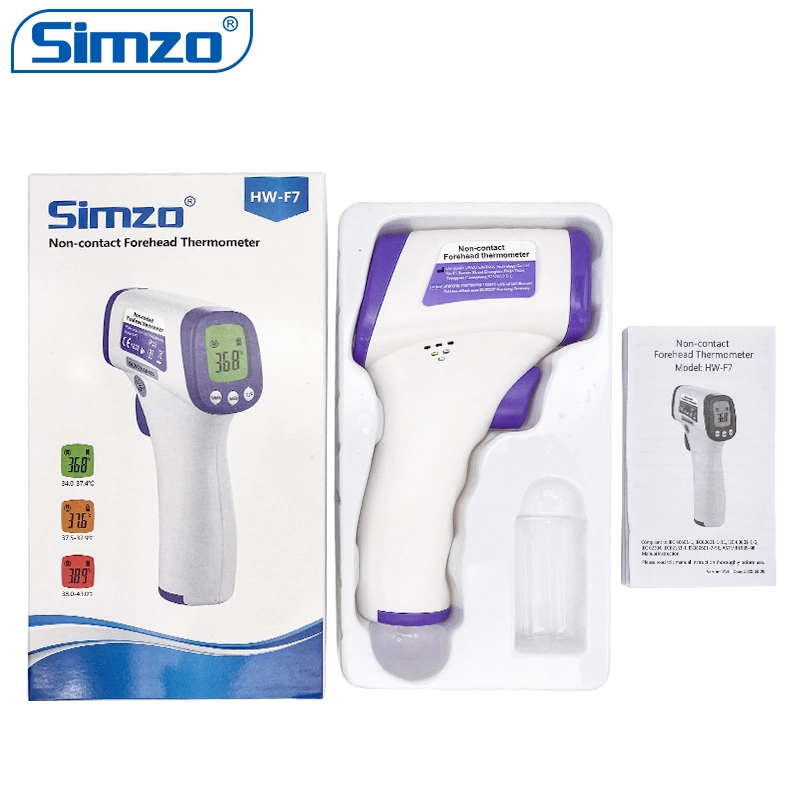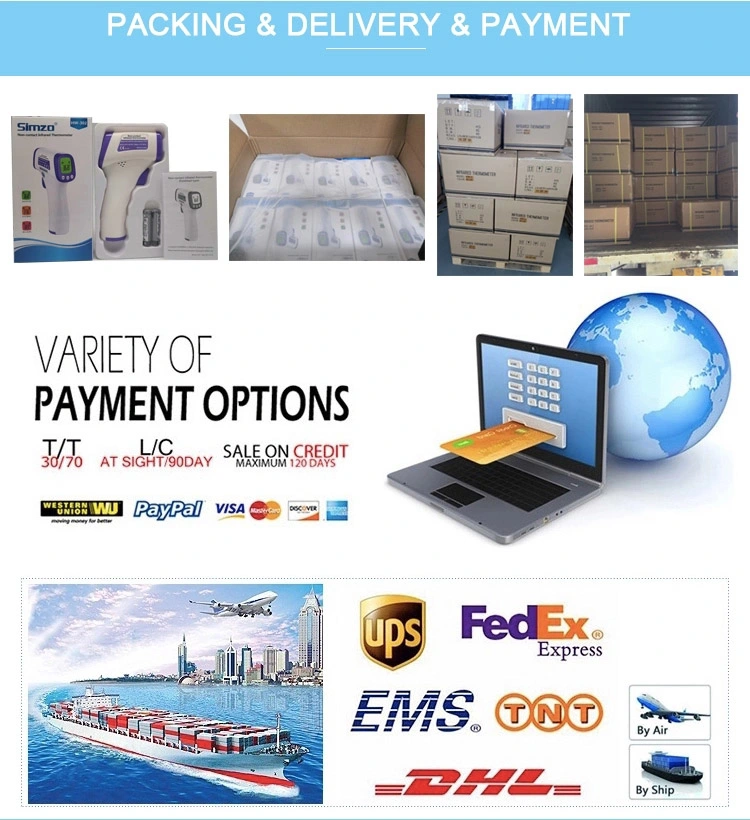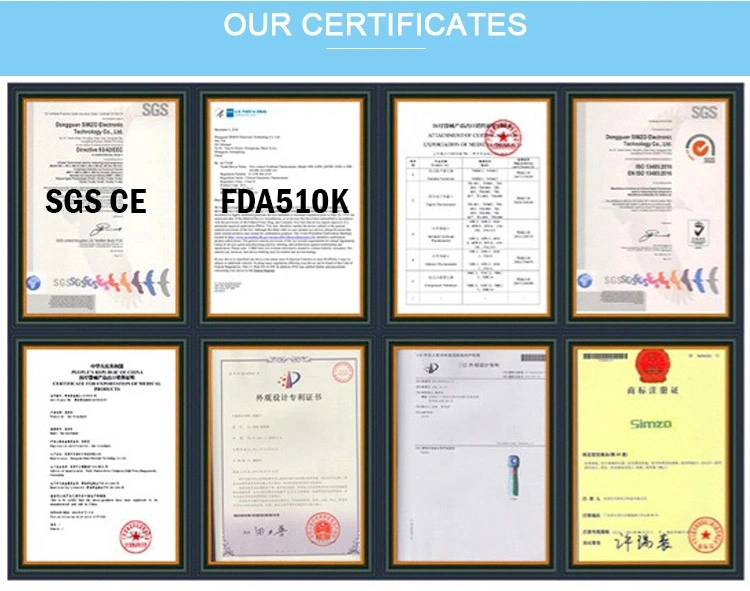 Packing info.:
Color box size:163*88*47MM
Qty/ctn: 60PCS
G.W./ctn: 7.4KG (without battery)
Ctn size: 47*35*32CM
Dongguan Simzo Electronic Technology Co., Ltd. is a professional manufacturer of infrared thermometer, digital thermometer, ultrasonic nebulizer,etc. SIMZO integrates solution development, product design and product marketing. SIMZO Infrared Forehead Themometer, Mesh Nebulizer ODM/OEM Professional manufacturer of medical equipment.In Dongguan, SIMZO covers an area of more than 5000 square meters. SIMZO is equipped with modernized assembly lines and advanced testing facilities and has 300 well-trained staff members.It is most highlighted that our company is backed by a top caliber team of designers and engineers who have more than 10 years' experience in the field of medical electronics. This team is always the pioneer in making cutting-edge technology and transforming technology innovation into practical utilization. Meanwhile, we are dedicated to quality control and cost performance. SIMZO is supported by numerous and reliable sub-suppliers due to the fine location in one of the key industrial regions of China. These advantages make "SIMZO" a distinctive and trusted brand both for OEM projects and customization services.To cater to a universal clientele, our company has passed ISO13485 certification and our products comply with CE, FDA and MDD standards. Over years, SIMZO has already established long-term and strategic cooperation with leading brands of health care products all over the world.We also set up an affiliated corporation Shanxi Simzo Brothers Bio-technology Limited, which is located in Xi'an High-tech Industries Development Zone, Shangxi province. The company is focusing on marketing of all sorts of botanical exacts.